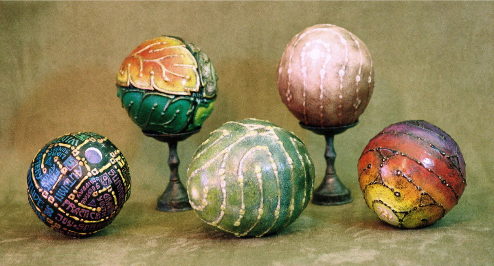 These Labyrinths are spherical mandalas
to be held in your hands
as an invitation to travel on a spirit wheel
The journey from day to night, moon to sun,
will be a tactile walk, feeling your way along the path with your fingers.
"An art that has life in it does not restore the works of the past, it continues them."
- Auguste Rodin
The Artist's Process

Labyrinths historically have been two-dimensional, carved into rocks by the ancients, or inlayed in tiles on a cathedral floor. Some gain some depth when carved into turf or outlined in stone walls or hedges, but still remain essentially flat.
To transfer a labyrinth, a flat graphic symbol, onto a sphere, Melinda studied an ivory orb made by M.C. Escher, and an artifact found in Arizona: a round rock carved with the same classic seven circuit design found on Crete. By experimenting as a fiber artist and using familiar materials, Melinda sews a canvas sphere, fills it with batting, then makes the design on the surface. They are meant to be handled--they are not toy balls to be tossed.
One of a Kind ~ Handmade ~ Original
Three-Dimensional Fabric Sculptures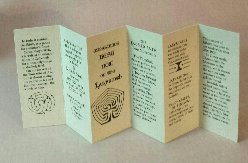 They come with a small booklet of labyrinth lore describing a way to use them as a meditation tool, to form questions, or focus prayers.