Hooded Mantle, Beige Cotton
$36.oo
Size: Adult-fits all
This short skirt or wrap can be worn as a belt, a hip scarf, or on the shoulders as a shawl. The squared bit shown in the front top, is a deep pocket for your phone and cards when dancing at the fair, or trooping with the elves. The leaves are hand made, not prefab, assembled on a fabric foundation with a dagged edge. Each belt I make is true in shape and color to the listed item, having the same balance of the elements shown, yet no two pieces could ever be made exactly alike, and some variation in materials and placement will occur.
Oak, Ash & Thorn Leaf Belts
With a garment of leaves, you can instantly feel like a woodland creature and blend in with the faeries.
Each begins with leaves of Oak, Ash and Thorn, the trees favored by the Good Neighbors and the Celtic bards, and then is filled in with some apple leaves, a few ferns, catkins, and fuzzy mosses.
Shown here: ties at the top are the front of the belt
SPRING COLORS LEAF BELT $59.oo
42 inches long, dangles up to 14 inches, with 18 inch ties
HOW TO CARE for your garment of leaves....
Spot Clean Only by hand, no bleach, lay flat to dry. Do Not machine wash or dry. To avoid crushing the textures, keep it rolled in a container for storage or travel. A cool iron can restore folded leaves.
AUTUMN COLORS LEAF BELT $59.oo
36 inches long, dangles up to 14 inches, with 18 inch ties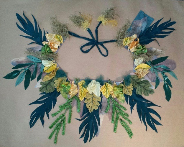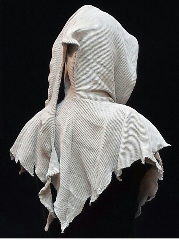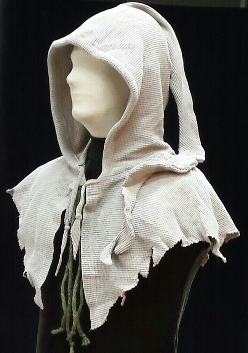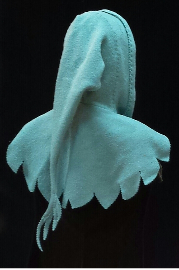 Dark Leaf Hooded Mantle
$59.oo
Size: Adult-fits all, bonded poly hood, collar quilted on felt lining, hand wash
Green Hooded Mantle
$36.oo
Size: Adult Small, poly fleece
Green Hooded Mantle
$36.oo
Size: Child, poly fleece