Faerie glamour . . . Powers of enchantment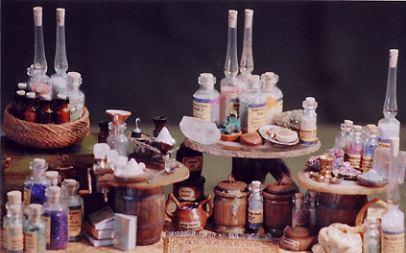 When humans record their encounters with Faeries, they always speak of the remarkable abilities faeries have. The Lore is rich in stories of Faeries doing things that mortals could only wish to do. Until now . . .
These secret formulas of glittering powders are contained in miniature glass bottles with corks.
* Glass bottles not recommended for small, young children.
Labels say:
Levitation Dust ~ Grants the power to self propel
Shapeshifting Dust ~ Power to change form or size
Invisibility Dust ~ Power to instantly disappear
Weather Dust ~ Controls the local climate
Luck of the Games ~ Grants skills at sporting, especially at Tables (chess)
Five Classic Powers
Faerie Dust
Set of five bottles ~ $10.00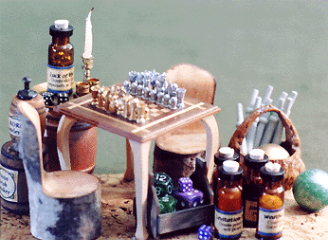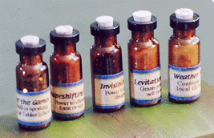 Actual size of each bottle : 1 1/4 inches tall, sets come in brown or clear bottles
Labels say:
Time Dilator Dust 1 ~ Makes time pass slowly, as in a trance. Sprinkle to extend a moment of thought or experience so it lasts for hours or days!
Time Condenser Dust 2 ~ Makes time pass swiftly, as in a dream. Sprinkle to compress a long journey or an event so it lasts for only seconds.
Time Synchronizer Dust 3 ~ Provides the PATIENCE to wait for Perfect Timing and the knowledge of when it is the Right Time.
Each bottle 1.5 inches tall


Supernatural Passage of Time Faerie Dust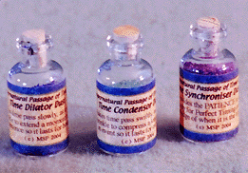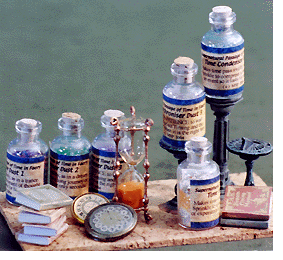 Set of five bottles ~ $10.00
Label says:
Four Leaf Clover Dust ~ The 'Eye Opener' bestows the vision to see the Faerie Realm. Sprinkle to lift the veil of glamour, unmask disguises, and reveal the invisible.
Label says:
The Gift of Music ~ Grants spontaneous skill at playing harp, fiddle, pipe and drum. Quickens the feet for dancing, animates the voice for singing, and neutralizes the fear of embarrassment.
Bottle is three inches tall
Bottle is 1.25 inches tall
Gift of Music Faerie Dust

Four Leaf Clover Faerie Dust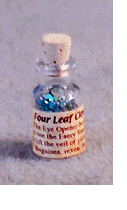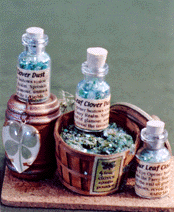 Faery Glamour Dust ~ Entire set of Ten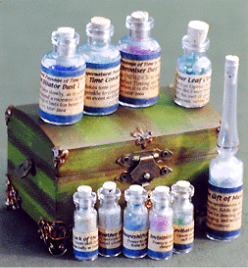 "Another sort there be that will
be talking of the fairies still
nor never can they have their fill"
Michael Drayton (1600, England)