Inspired by the Russian folk tale of Vasalisa the Wise who carries her intuition doll in her pocket on her heroic adventures in the forest to earn the "fire" she needs from wild Baba Yaga! By following the advice of a doll given to her by her dying mother, Vasalisa learns to trust her own intuition and gains entrance into adulthood. A 26-page story book containing the Vasalisa folk tale, an exploration of the symbolism and the meaning of intuition is included with this doll pattern. The book is 3 inches by 5.5 inches, easy to assemble and fits nicely in the pocket with the Vasalisa doll.
The original pattern designed by Melinda Small Paterson with complete instructions to make Vasalisa in 7 inch and 5.5 inch sizes, her "skull" torch, the story book and a pocket to carry them in.
This is a great project for mothers and daughters to do together. The Intuition Doll also makes a great gift for anyone celebrating a "coming of age" event or transition. During life's trials the doll can be a constant reminder to trust your own intuition.

Vasalisa Intuition-In-Your-Pocket Cloth Doll Pattern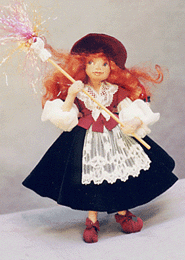 No need to be an expert! You will find the illustrated instructions detailed enough that with basic sewing skills, you can finish a well made doll and all her accessories in about 10 hours of fun. There are tools you can make to help you enjoy doing a doll this size. Costume options are given for various fabric types.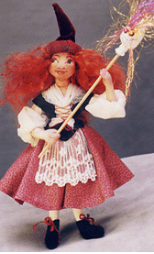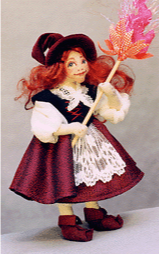 The "Intuition Pocket Cloth Doll" project not only gives you instructions to create your small "portable" doll but also a story book and a pocket to carry them in.
Tools & Materials You Will Need
A basic sewing machine (no fancy stitches are necessary), scissors, needles & thread, pins, tacky glue, toothpick, stuffing, doll hair, paint or colored pens, 4.5" bamboo skewer and metallic threads or tinsel for torch, stuffing fork and a "Bow Whip" (if you've never used this, there's a description included in the pattern of where and what to get).
Tips on the Finishing Touches
Face: The pattern instructions give you a detailed guide to drawing and painting Vasalisa's face as seen in the diagram at the left.
Torch: There are 3 different patterns for the symbolic torch that Vasalisa receives from Baba Yaga. Most women like the skull on fire torch but there are instruction to make a fabric flame or thread flame if you would prefer.
Story Book: The book is printed on two 11"x17" sheets of paper. When cut as instructed, it folds into the 26 page Vasalisa Story Book. You may use the cover as printed or embellish it with fabric and trim.
Additional 11x17 printer's spread copies of the Vasalisa Story Book can be purchased:
Pattern Information
Freezer Paper can be used for pattern pieces. It is thin enough to lay on the pattern to trace the shape and cut it out. You can also iron it onto the fabric to hold it in place while tracing the outline or sewing the seam.
All the pattern pieces are covered with notations about seam allowance, fabric grain and other details labeled with dots and letters (only the outlines of the main pattern pieces are shown on this page).