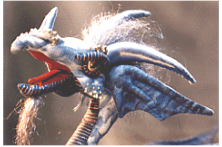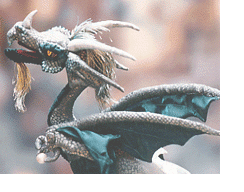 This Cloth Dragon project is unique among cloth sculpture patterns because it has detailed instructions and hand drawn illustrations to show the way through a logical series of parts to be made one at a time and then assembled into a finished figure.
The finished dragon is 12 inches high, 28 inches long from head to tail with bead eyes, fiber mane and sand-filled tail using the old pioneer trick of button joints to allow the wings and legs to be posed.
You don't need to be an expert!
The pattern contains clear instructions and generous illustrations that fill 9 pages. In about 20 hours of adventure, you will have your own unique Dragon! All you need are intermediate skills and a basic sewing machine.
The pattern lists the common tools and materials needed, and you'll have fun selecting the bright fabrics with prints that suggest scales, feathers, clouds or waves, and colorful fiber for the mane (yarn, silk thread, etc.) and flashy beads for eyes. Included in this package is a section on Dragon Lore from literature and tradition.
Details included in the pattern:
Tools You Will Need: a basic sewing machine (no fancy stitches are necessary), scissors, needles & thread, pen or colored pencil, small pliers, funnel and spoon from the kitchen, 3" long needle for joints, stuffing tool (chopstick), and optional bow-turner tools (if you've never used these, there's a description included in the pattern of what to get).
Supplies You Will Need: buttons, pipe cleaners, pearl bead, eye beads, fiber for mane, poly-fill stuffing, waxed thread, coat hanger, sand (includes explanation of sizes, quantities, and sources), and any other items, such as trinkets or puffy paint, that tickle your fancy.
Fabric Selection Tips to help you choose wonderful prints and textures in 5 coordinating colors, advice on suitable fabrics and stabilizing lighter weights.
Cutting Out The Pattern is easy with each paper pattern piece covered with notations about seam allowance, fabric grain and other details, labeled with dots and letters.

Layout Suggestions to help on getting the most out of the designs and textures of your fabric pieces.
Sewing Machine Tips to help you manage the seams on small pieces with curves or corners, use of double stitching and fray check.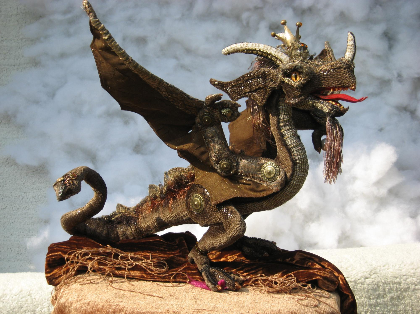 This fabric sculpture appears before you as the expression of Melinda's dedication to dragon folklore and the finest in fiber arts and dollmaking artistry.
Here's what people who have completed the project are saying:
"Intermediate skills required? NO WAY!!! My 16 year old daughter had no sewing experience, but I showed her how to thread the machine and use the presser foot, and last night she finished her dragon, and it is absolutely wonderful!!! I am so impressed with both her and with the pattern itself. The directions are just wonderful. She did the whole thing herself, and it went together without a glitch. Thank you for an absolutely wonderful product - the pattern is worth every penny."
(B.S., Virginia)
"I finished it last week and just had to write you to tell you thank you! It was time consuming, as most things of value are, but I am so thrilled with the way it turned out. When I first read the instructions my first thought was--no way--but once I got underway I found them very precise and well laid out. I had no problems at all."
(J.R., Canada)

"The instructions were superb--once I remembered my grandmother's admonition about instructions: 'they are to be followed; not read.' They were perfectly put together for this kind of project. Do this first! and then... Many times I would have a couple of pieces in hand saying 'this just can't be' and then WHOA!, there it was!"
(P.F., Clatskanie, Oregon)
Made by Vina White of Vancouver WA, 2014, with wire added in tail