The lively faces you see here are the doll designs produced bt Melinda with inspiration from folklore and mythology. To our benefit, most of these playful beings are fond of mortals who are honest; especially poets, musicians, gardeners, seamstresses, skilled craftsmen and, no doubt doll collectors and miniature enthusiasts.
~ The Gentry ~
Miniature Faerie Dolls
The Gentry is the polite Irish name for the faeries because they think of themselves as aristocrats and prefer this respectful title, or a familial one such as "the wee folk" or "the Gude Neebors." Each freckled companion is a hand-crafted, five-inch tall, personal expression. All the dolls featured here have hands, feet and faces in porcelain, are cast from molds of the artist's original clay sculpture, then fired, china painted, and assembled on a soft body with a wire armature, making them posable.

Twyla
She is the last one of a limited series of five with her face, hands, and feet made of porcelain cast from Melinda's original sculpture. Her porcelain body has poseable arms and legs and her hair is angora wool.
Her right hand is posed in the ancient blessing of 'mano pantea' to bring the protection of parental spirits.
Twyla's apparel is handmade. Her certificate of authenticity comes in a booklet containing lore about the powers, gifts, and habits of the faerie Gentry.

Her name is Eo, the Gaelic for yew tree. Arber is the old spelling for herber, an herbalist. She knows all the healing uses for plants and she carries pouches full of seeds and leaves.She was created for Patti Medaris Culea's Book, Creative Cloth Doll Couture (2006) by Quarry Books. She is made entirely of fabric so you can pose her and hug her. Her face is of knit with painted features and her wings are sewn, wired and painted mylar and lace.
Her wingspan is 20" and she is 22" tall from hat to toe.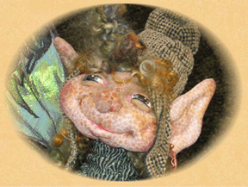 "Another sort there be that will
be talking of the fairies still
nor never can they have their fill"
Michael Drayton (1600, England)