• Each kit includes all the fabrics you need for the doll heads,
dresses,bandanas & aprons, twill tape for arms and legs, and
floss for hair.
• Instructions with actual sized drawings.
• Each hand stitched doll can be completed in about an hour.
• You will need scissors, needle, thread, tacky glue,
and acrylic paint & brush to complete this project.
Materials needed to complete the doll: sharp scissors, needles and thread, tacky glue, toothpick, fine tip red and black markers in red and black, white or flesh color gel pen, or acrylic paints in red, black and white or flesh colors.
Rag dolls were made from scraps, no two are alike, none are perfect, and all are lopsided and flawed, so this can be a relaxing and enjoyable. As you work, think small and in a few hours the doll will be done!
Miniature Topsy-Turvy Folk Doll Kit
Two inches high
The Americana Rag Doll Kit
includes materials and instruction
to complete 3 miniature dolls
in these styles:
• Native American
• African American
• Raggedy Ann
Actual Size in Photo (1.25 inches tall)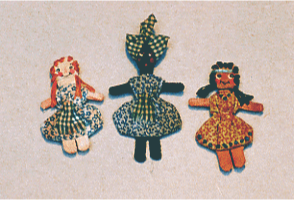 Rag Doll Kits by Melinda
Smallwork.com in Portland, OR, offers unique rag doll kits for those of all ages. Owner, Melinda Patterson, has a variety of dolls including cloth and miniature dolls. Using nothing but quality fabric and materials, you will love your dolls!