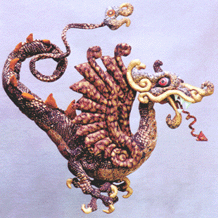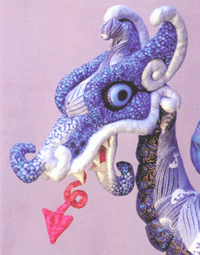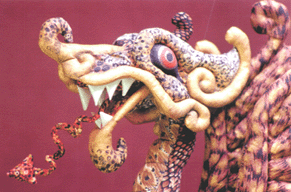 This Wyvern,
a serpent-bird, is inspired by the stylized dragon images found in the knotwork art from the Irish book of Kells. It has a dog-like face that is a mask done with surface sculpting, cloth teeth, painted eyes and claws, a wired tongue, and a 36 inch tail also wired to wind into any shape you wish!
Fabric Sculpture Dragon Pattern
You can create your own Dragon to be your keepsake mascot and household guardian with my original pattern.
Your dragon will fly from the ceiling or hang on the wall. With basic sewing skills you can create your own dragon using the complete illustrated instructions. The patterns have detailed notations and this dragon is easier to sew than Melinda's Real Dragon Pattern.

The package includes layout suggestions, fabric selection tips, tools to make, extra tips for sewing and stuffing. PLUS a page on dragon lore from worldwide literature and tradition. This pattern features the face made as a mask with surface sculpting done with the "trapunto" method of stuffing between 2 layers of fabric. The face is fitted over the simpler head shape on the body piece.